By Andy Wong, on 28 January, 2015
Hello (안녕하세요), Seoul!
Seoul, Korea Winter Edition
Korea proved to be more than just a shopping paradise; my third time here and my souvenir back this time was a few extra pounds. Most flights from HK to Korea are red-eye flights which allow you to maximize your travel time but a nap is still highly recommended. It was a long wait before stores opened and hotel check-in at 2pm. My stay at Ramada Encore was pleasant and the hotel was conveniently located a few subway stops away from main districts like Dongdaemun coupled with very friendly staff and added services like currency exchange. The plan was to stuff my face and shop till I drop dead, which I achieved more so with the former than latter.
Good Eats
Though I have low tolerance for spicy food and ended the trip with a funny stomach, surprisingly there were plenty of other non-spicy and delicious options.
I didn't miss American food desperately but Issac Toast (funny enough, it's pronounced "ee-zac" toast and the only pronunciation locals understood) was still worth a try. Call it the Korean version of Dunkin' Donuts, they offered buttery bread toasted with Bulgogi (marinated beef), spicy rice cake or just ham & cheese. Mmmm, a sweet, piping hot toast to start the day.
Ginseng chicken
Ginseng chicken is the perfect hearty meal after venturing out in the chills below 6°C. Stuffed with glutinous rice, chestnuts, garlic, ginseng and more ginseng, the whole chicken came in black or regular. The rich, flavorful soup left me satisfied with a paradoxically bittersweet and earthy aftertaste, and hopefully a boost for my immune system.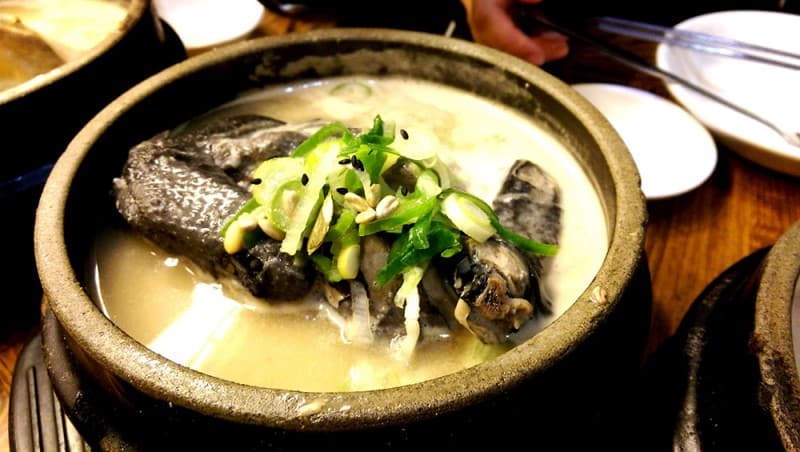 Korean Seafood Barbeque
I love the Crustacean family and got my unlimited fixing at a local all-you-can-eat-seafood barbeque restaurant. Several rounds of abalones, scallops, oysters and clams later, I fell in a sweet coma. Believe it or not, barbequed seafood was much better than the typical carnivorous barbeque in Korea. If you are a disciplined traveler, I suggest you save the quota (and cholesterol) for the seafood. Simply fresh, sweet and delicious.
Seafood, raw
And I did it! Here at the local fish market in Korea, I tried the infamous live octopus tentacles which squirmed in my mouth and sure enough, its tentacles suctioned on my tongue – an interesting but strange feeling. The fish market was located at the Seoul World Cup Stadium where I got to pick my own seafood favourites from different vendors and pay a reasonable 3,000KW per person to cook'em up at the kitchen on the second floor! There were also numerous stalls of vegetables, red hot spicy-looking kimchis and goodies alike, and juicy, huge, sweet strawberries. To conclude, delectable and definitely bang for your buck!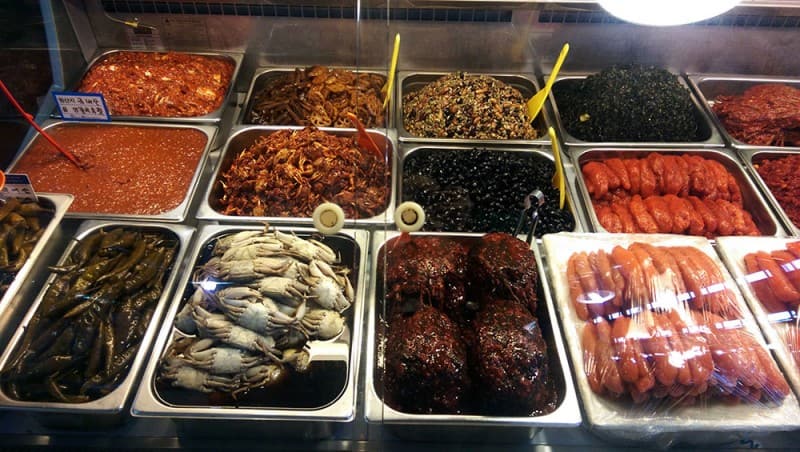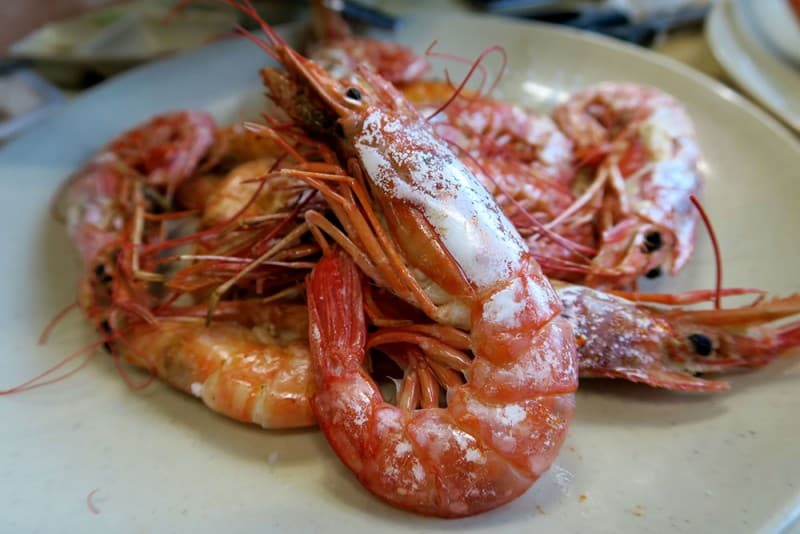 Marinated Raw Crab
If there was one thing you have to try in Korea, it would be the raw crab sashimi at Sinsa-dong. Picture does speak a thousand words, which none can describe the taste of the creamy and abundant crab paste and raw meat – divine in both soy sauce and mixed with rice and seaweed. On top of that, we sent a live octopus straight to its death bed in a boiling hot soup in its flavor and I admit, it was very cruel but satiating.
Budae jigae
Budae for "soldier" and jigae for "stew", the dish originated during the Korean War when food was scarce and Korean soldiers stewed up Spam and hot dogs from the U.S. army with kimchi and hot pepper paste. Budaejigae Street in Uijeongbu district, a poor village home to army bases then, now boasts a stream of restaurants solely dedicated to this dish – best served with beer and good company.
Street Foods
Finally, you cannot miss the street foods while shopping and will be lured by all sorts of snacks like custard-filled waffle biscuit, sausage skewers, French Fries coated corn dog, churros with cream cheese filling, and much more!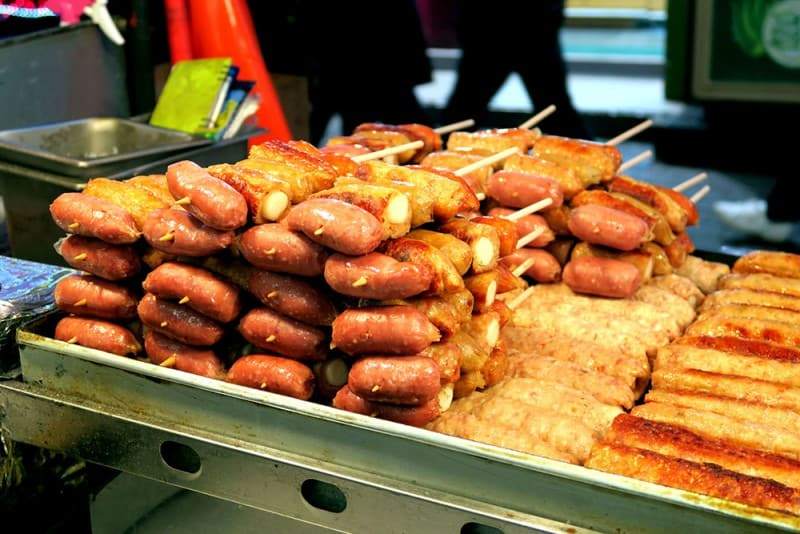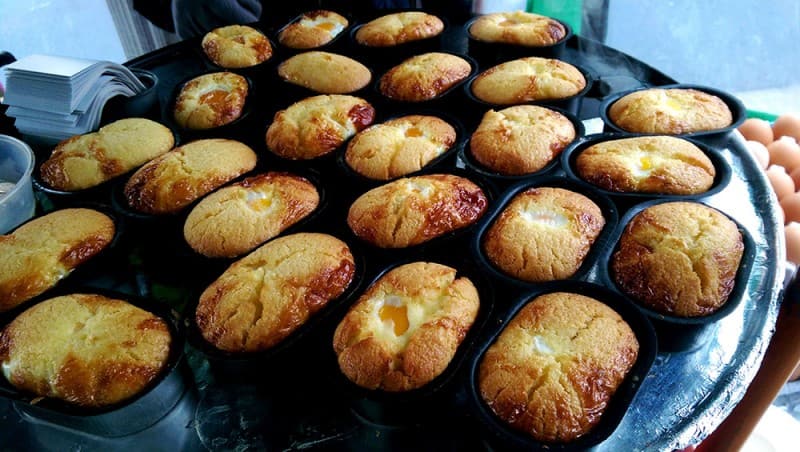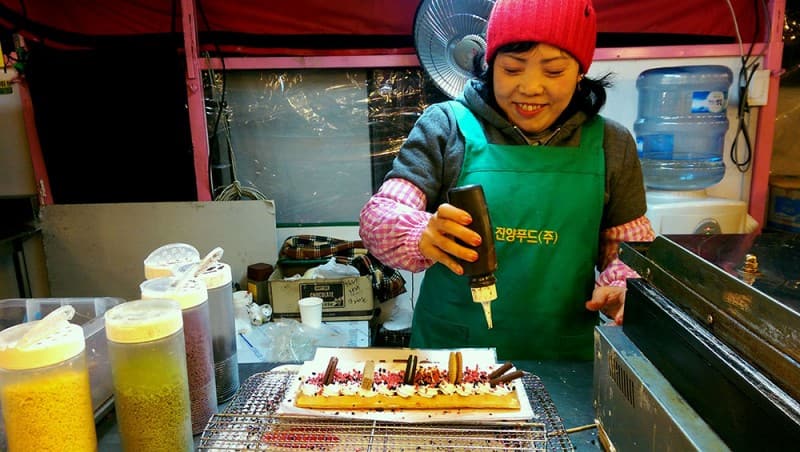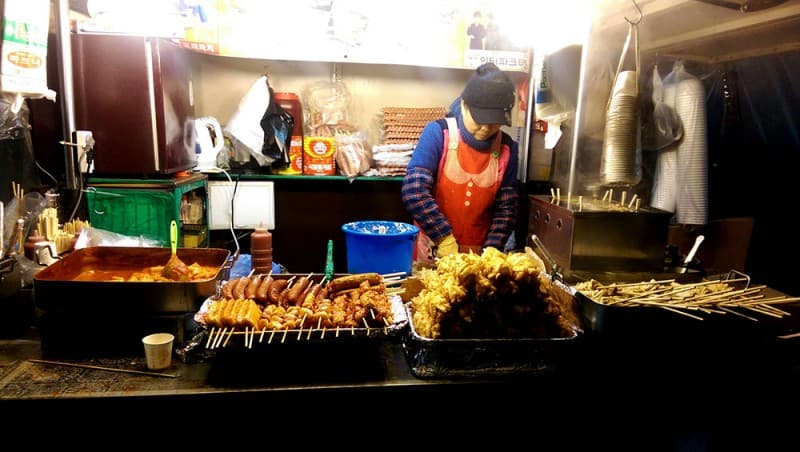 ***Special Thanks to the Hong Kong Expedia™ Lodging Partners Service Group for providing this blog post.